Building and Strengthening Investment Ecosystems
Actions Beyond Activating More Capital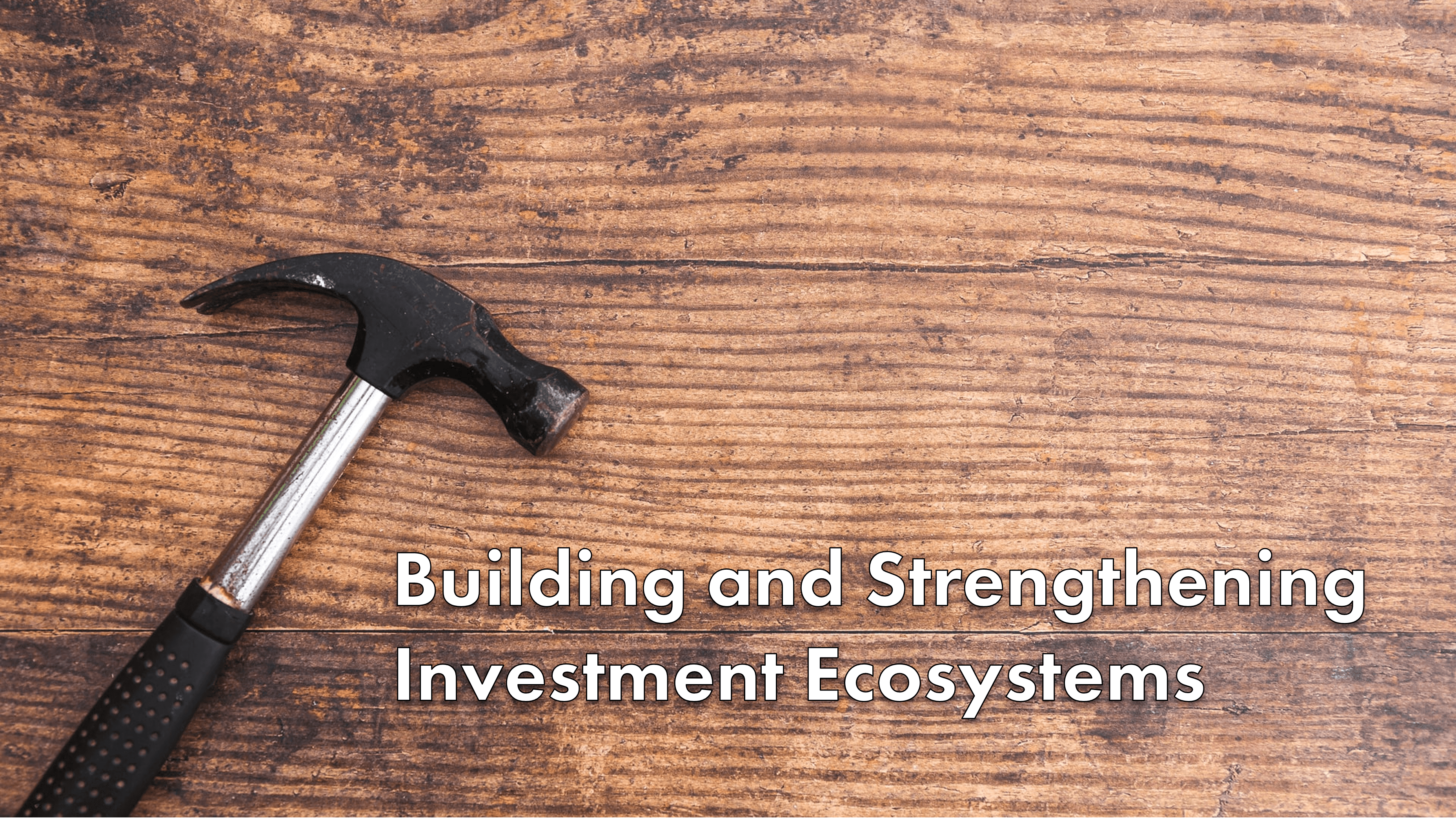 Part of what LOCUS champions is the idea that communities already have many of the assets needed to realize the visions and possibilities of their people and places. In fact, many of those assets are anchored in institutional and philanthropic endowments. We believe that these institutions have an obligation to activate more of those assets through local investment strategies. But bringing about highly functional capital ecosystems is not an overnight endeavor, and it involves actions beyond just activating more capital.
Several years ago, teams from Richmond, VA – including Virginia Community Capital, LOCUS sister organization – and Central Appalachia – including partners that helped create Invest Appalachia, where LOCUS serves as Investment Manager – participated in the Center for Community Investment's (CCI) Connect Capital initiative. This multi-year initiative guided six teams through an exploration of place-based strategies for attracting and deploying capital at scale. As outlined in CCI's Capital Absorption Framework, creating a high-functioning capital ecosystem requires defining shared priorities, building a coordinated and visible pipeline, and "shaping the enabling environment." CCI's thought leadership has informed LOCUS' own approach to understanding and strengthening ecosystems, particularly our vision for how philanthropic partners need to "show up" in that ecosystem.
This month, we thought that it would be useful to revisit elements of CCI's capital absorption framework and nest a few of our own observations specifically focused on efforts we've seen to promote a more supportive enabling environment or investment ecosystem.
Building and Strengthening Ecosystem Partner Capacity
CCI Element: Ensuring the availability of needed skills and capacities
Effective ecosystems require people and organizations with a range of skills – people who can engage community residents to identify opportunities; people who can stack capital to make a deal happen; people who put capital to work in a specific project to help a community's dreams become reality. As part of the Connect Capital process, the team from Central Appalachia identified a lack of "investment framers" as a gap in the regional investment ecosystem. "Framers" are people with the language and tools to recognize potential investment opportunities, and the ability to connect projects to the resources, including various forms of capital, needed to move them forward. They aren't experts in everything, but they know the experts and when and how to bring them in.
This "investment framer" gap in the Central Appalachia ecosystem was one motivating concept behind the development of the Appalachian Investment Ecosystem Initiative (AIEI), a multi-year effort, managed by LOCUS, to build on years of work in the region and fill gaps to strengthen the ecosystem. As one part of AIEI, LOCUS, Invest Appalachia, and the West Virginia Community Development Hub collaborated to design and facilitate the Appalachia Investment Framers Action Cohort. Over 12 weekly virtual learning sessions, a diverse cohort of 13 community leaders from across the region built their investment vocabulary and understanding of key concepts related to what makes a project investable, explored the capital needed for a project to come together and where that capital can be found in the ecosystem, and applied their learning to "frame up" a project important to their community or their work. The sessions were led by regional ecosystem partners, facilitating the connections that the framers need to embed what they've learned in their work going forward. This first cohort represents one step toward building an enabling environment that includes a more diverse network of community-based practitioners in the region who identify as "investment framers" and have the skills to bring investment-ready projects to regional financial intermediaries.
Leveraging Risk Tolerant and Catalytic Capital
CCI Element: Locating additional sources of funding
While it takes more than capital to support a strong enabling environment, communities across the country need access to more creative, risk-tolerant, and catalytic capital if they are to act on their unique opportunities and meet their specific challenges. Philanthropy is uniquely positioned to provide this type of capital, considering both the impact and financial return of community investments. Stepping into this role, however, requires philanthropy to work with ecosystem partners in new and different ways. One example of this "reimagined" role for philanthropy is the work that the Ewing Marion Kauffman Foundation and its Kansas City ecosystem partners have undertaken to provide more equitable access to capital for entrepreneurs in metro Kansas City. For two years, a diverse group of ecosystem partners has been meeting to identify ways to expand access to capital through networking, education and training, and access to capital in response to COVID. Now they are considering how credit enhancements might be used to encourage more financial intermediaries to challenge their assumptions about risk and change their lending practices to overcome inherent bias in the capital system. This important work was featured in our June 2022 Learning Exchange More than a Moment event and a recording can be accessed here.
Creating a Legible Investment Pipeline
CCI Element: Building forums and platforms for ongoing collaboration
An oft-cited ecosystem gap identified by our foundation partners is the lack of a Community Development Financial Institution. CDFIs are likely partners with philanthropy given their mission alignment and community focus. When they exist in a community, their partnership can help to unlock a foundation's assets and facilitate the transition from grant maker to community investor. But what happens when no institution fills the community development finance gap? The Community Foundation of Bloomington and Monroe County was confronted with that precise situation. In 2017, a market assessment found unmet capital needs for small businesses, housing developers, and nonprofits in the region – needs that required more flexible financing than local banks were able to provide. Recognizing that the region needed diverse types of capital that a single CDFI might not be well suited to supply, CDFI Friendly Bloomington was established in 2018 – the product of collaborative efforts between the community foundation, the city, the Bloomington Urban Enterprise Association, and local business and civic leaders. This initiative, with strong leadership within the community, went from an idea to closing its first deal in just about two years.  
CDFI Friendly Bloomington fills a key role in the enabling environment, building a pipeline of potential investment opportunities in the region and making those opportunities more legible to CDFIs operating outside the local market. Technical assistance can be marshalled if the deal isn't quite investment ready. And CDFI Friendly Bloomington has raised funding for credit enhancements to help move capital into projects that can mitigate risk or fill gaps. The CDFI does what it does best – work with the borrower to structure, package, and service the loan.  
The Community Foundation of Bloomington and Monroe County brought a range of assets to the creation of CDFI Friendly Bloomington – convening partners, incubating the program in its early stages, and engaging the outside expertise needed to support program design and development. In doing so, the foundation helped to strengthen the community investment ecosystem and build a partner for its own local investing aspirations.
A strong investment ecosystem isn't an end itself. Ideally it "supports the sustainable and equitable flow of integrated capital to communities in ways that build local wealth and improve the health of all people in the region" (AIEI Theory of Change). What steps can you take to understand and support your investment ecosystem?
Explore the resources developed by the Center for Community Investment.
Explore the resources developed as part of the Appalachia Investment Ecosystem Initiative.
If you are a place-focused foundation, consider reaching out to the financial intermediaries in your community or region to understand the capital needs they can – and cannot meet – in your place.
If you are an ecosystem partner, invite your local philanthropic organization to a roundtable session to understand who's doing what in the ecosystem, where the gaps might be, and how you can work together to build a stronger, more equitable system.
If you have an ecosystem story to share, please let us know by emailing us.
Written by: Deb Markley and Sydney England