Introducing Our New President
Welcoming New Leadership as We Scale Services and Impact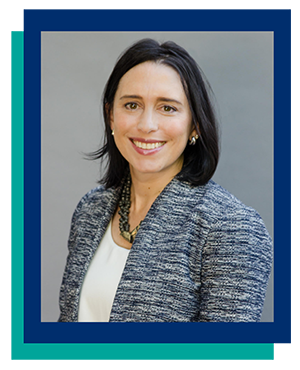 LOCUS Impact Investing is pleased to introduce its new president, Sarah Stremlau, who joined the organization on September 14, 2020. With 20 years of experience helping philanthropic, nonprofit, and government leaders achieve greater impact, Sarah is uniquely positioned to take LOCUS to the next level of nationwide growth.
Sarah comes to LOCUS from Arabella Advisors, where she served as an Associate Managing Director. In this capacity, she co-led the 100+ member Managed Organizations team, which develops, incubates, launches, and efficiently manages hundreds of philanthropic initiatives. Prior to joining Arabella, Sarah led the strategy practice at Orr Group, a consulting firm serving the nonprofit sector. As Vice President of Strategy, Sarah developed sustainable organizational and revenue strategies for a broad spectrum of nonprofits. Earlier in her career, Sarah was Senior Research Officer at the National Endowment for the Arts (NEA), where she oversaw the NEA's research portfolio and developed the strategic plan for the Endowment. Additionally, she worked in the Poverty Reduction and Economic Management Group at the World Bank, coordinating a 15-country study on economic mobility.
Throughout her career, Sarah has helped organizations achieve greater impact by being more data-driven, more strategic, and more innovative in the tools they use to do their work. She will bring these business skills and experiences to LOCUS' clients and to LOCUS itself, setting the vision for the organization's future and establishing the operations needed to sustainably grow and expand its national footprint.
"We are thrilled to welcome Sarah to the LOCUS team," says Jane Henderson, President and CEO of Virginia Community Capital, LOCUS' parent company. "She brings a wealth of experience in the social sector, along with a business acumen that will help us strategically scale services and impact."
As President, Sarah will lead the LOCUS team and develop the strategy and pipeline to grow current programs and build new products and services. Her leadership and direction will enable LOCUS to amplify its empowerment of place-focused foundations as they invest their capital to build prosperous, vibrant communities.
"It's an exciting time to join LOCUS," says Sarah. "Over the past three years, the team has established themselves as trusted partners to philanthropists interested in unlocking and deploying capital for local investment. Communities need philanthropic support now more than ever as they look to rebuild in more equitable and inclusive ways post-pandemic. LOCUS can help philanthropists go beyond grantmaking by leveraging more of their assets and using innovative financing tools for community economic development. I'm excited to work with the LOCUS team, board, and partners to bring these services to more philanthropists and communities across the country."
A Washington, DC, native, Sarah holds a BA and an MA in sociology from Stanford University and an MBA from the University of Pennsylvania Wharton School of Business. In addition to changing jobs during a pandemic, Sarah also welcomed her first child in April and is enjoying the challenges of balancing motherhood and a career. She keeps her sanity – and her healthy lifestyle – by running, hiking, and spending time outdoors. Prior to the pandemic, Sarah was an avid traveler with more than 40 different countries stamped on her passport. 
LOCUS is a nonprofit consulting firm and mission-driven registered investment advisor serving foundations looking to use more of their assets to promote prosperous, vibrant communities. LOCUS guides and supports foundations exploring impact investing as a tool to leverage more of their dollars to reimagine the communities they care about. Its team of economic development, former philanthropic staff, and finance professionals work in partnership with its clients to deliver right-sized, resonant onramps to unlock and deploy place-based investments, and to leverage their balance sheets for impact.