New Leadership Development Opportunity Will Increase Capacity for Investment into Appalachian Communities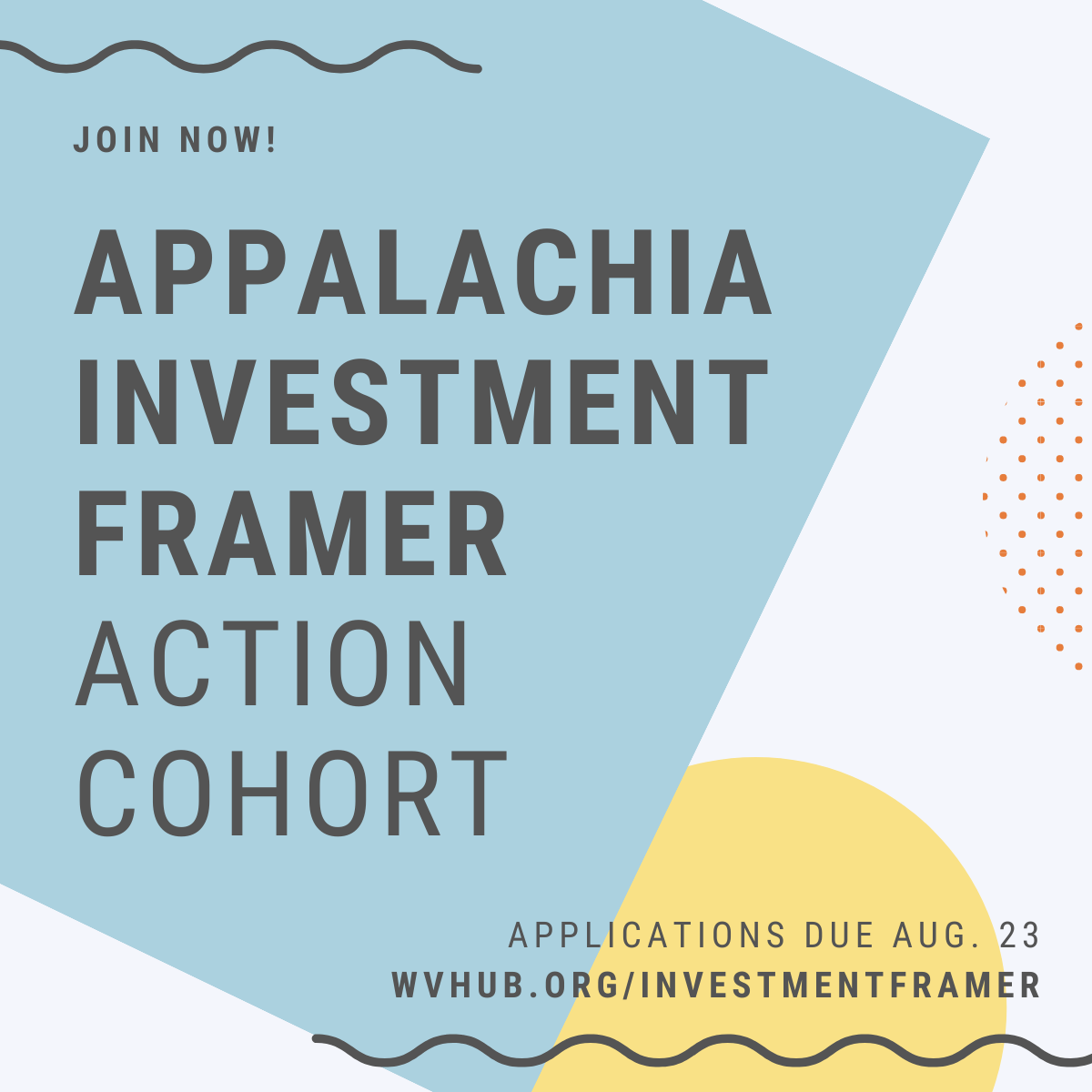 ---
Invest Appalachia and LOCUS Impact Investing - as part of the Appalachian Investment Ecosystem Initiative - are partnering with the West Virginia Community Development Hub to launch the Appalachia Investment Framer Action Cohort, an initiative to increase investment into catalytic community development projects located in the Central Appalachian region.
Participants in the first cohort will increase their knowledge and connections to activate investment-worthy projects related to small business, social enterprise, community facilities, and downtown real estate development. Participants will build the skills necessary to expand community investment in the Central Appalachian region and improve economic resilience in the communities where they work.
The first cohort will participate in a 12-week virtual learning series from September 22 to December 15, 2021. Prospective participants must submit an application to be considered. Applications are available online at https://wvhub.org/investmentframer and are due August 23, 2021.
Participants will have the opportunity to learn from regional and national experts, build their network with key partners in the funding and investment sectors, and apply what they learn to community projects. All cohort activities will take place online, and people from across the Central Appalachian region are encouraged to apply.
The Appalachia Investment Framer Action Cohort is supported by the Appalachian Investment Ecosystem Initiative, launched in 2019 with funding from Cassiopeia Foundation, Danville Regional Foundation, Greater Clark Foundation, Robert Wood Johnson Foundation, Thompson Charitable Foundation, UnitedHealthcare, and Wells Fargo.
"In order to accelerate community investment in Central Appalachia, we need to build a stronger and more inclusive pipeline of people working across the region who have the skills, tools, and connections needed to 'frame up' investment opportunities. Too often, good ideas at the community level do not move forward because our region has a limited number of people with the financial skills and understanding of capital needed to bring promising projects forward for investment," said Andrew Crosson, Chief Executive Officer of Invest Appalachia.
"With the Appalachia Investment Framer Action Cohort, we are creating a more equitable system that will increase our ability to bring capital into Central Appalachia. Growing this knowledge-base is the lynchpin to successfully draw the kinds of new and varied investments that help communities improve their economic futures," said Deborah Markley, Senior Vice President of LOCUS Impact Investing.
"This is a unique leadership development opportunity for community and economic development practitioners in Central Appalachia. When our region has a strong base of people who hold this kind of knowledge, and who are networked in with one another to both identify and move forward new projects, we will have even more regional leadership and resources to spur catalytic economic activity to drive community growth," said Stephanie Tyree, Executive Director of the West Virginia Community Development Hub.
Check here for more information and to access the program application.
About Invest Appalachia
Invest Appalachia is a regional blended capital platform, designed to accelerate and expand community investment across Central Appalachia. Invest Appalachia envisions healthy, resilient, and equitable communities throughout Central Appalachia where local entrepreneurs, community leaders and investors are working together to advance inclusive economic opportunity and locally-rooted markets that embrace the region's unique cultural, environmental, and human assets.
About LOCUS Impact Investing
LOCUS Impact Investing believes that philanthropy should work alongside communities to grow economies that work for all. We partner with philanthropy to use their capital as a tool to drive equitable prosperity, redefine their role as capital providers, and activate investments and endowments for community impact. We meet our partners where they are and help them realize the vision of where they want to be. LOCUS works with philanthropy to educate stakeholders and develop strategies, identify and assess investments through advisory services; and service and manage investment funds and portfolios.
About West Virginia Community Development Hub
The West Virginia Community Development Hub works with teams of West Virginians to define the future they want to see and build the skills and connections to get there. The Hub believes when West Virginians leverage the opportunities and tools they need to make positive change, they create a transformational impact in their communities.
Media Contact
Emma Pepper
Director of Strategic Network Communications, WV Community Development Hub
202.550.2208