Why Investing in Community Matters
By Deb Markley
Co-Founder and Managing Director, Center for Rural Entrepreneurship
Senior Vice President, LOCUS Impact Investing
I was raised in a small town in south Jersey – a place where every adult was a potential caregiver, problem solver and especially disciplinarian for all of us as kids; a place where people took on leadership roles – civic, school, church – and took care of one another. I have vivid memories of my grandfather, a skilled tradesman who didn't have much, giving of his time and talents to help families who had even less. That image defined for me what it means to be part of a small-town community.
When I had to choose my career path, I was drawn to rural economic development because of the pivotal role of community. I even shifted my focus from international to U.S. rural development because I felt I needed to be working in my own "place" – where my roots and commitment were deep. I was strongly influenced by community development principles – that the people in a community should decide their own future; that they should have control over their own assets and the wealth that is generated from them; that everyone's voice and future matter.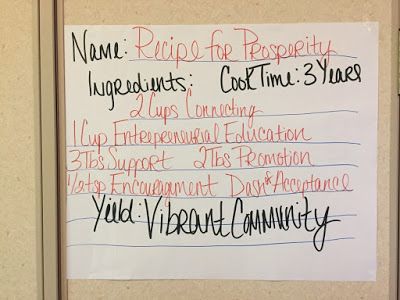 Sixteen years ago, I had the opportunity to found the Center for Rural Entrepreneurship (CRE) with my colleague, Don Macke. We felt CRE was needed to help rural communities craft more asset-based, entrepreneur-focused economic development strategies. Too many rural places struggled to achieve prosperity using an industry recruitment model. We saw the need to develop new tools and new partnerships with community innovators to learn what works – and what doesn't – and to share what we learned with other rural places. It's been an interesting and rewarding journey so far. We've learned a lot but one thing hasn't changed – the importance of engaging and empowering the community to dream about a different future and then create and implement a realistic but aspirational strategy that helps them get there.
That's the work that drives me to get on yet another airplane to partner with another group of committed community leaders – to share with them, learn from them and be inspired by them. I like to think what we do at the Center is to help communities re-discover or re-connect with a more positive, vibrant vision of what's possible. There is nothing more rewarding to me than seeing a group of community leaders begin to see their place through new eyes – as a place where opportunities outweigh problems and where there is energy and commitment to work together to change the future. It happens all the time and keeps me energized about our work. 
But, I still have a concern about the future that drives me to a new chapter in my work with CRE and LOCUS Impact Investing. For much of my journey in community economic development, the public sector has been a strong partner with communities. From regionally targeted programs of the Appalachian Regional Commission to grant and loan programs managed by USDA Rural Development to innovative state programs like NetWork Kansas, these public dollars were fuel for community economic development, providing resources to help communities invest in themselves and achieve a brighter future. That capacity is more limited and less reliable today. Where will the resources come from to fill this emerging gap? Again, the solution in my eyes lies in the community – in local investment by rooted anchor institutions and individuals who care about place.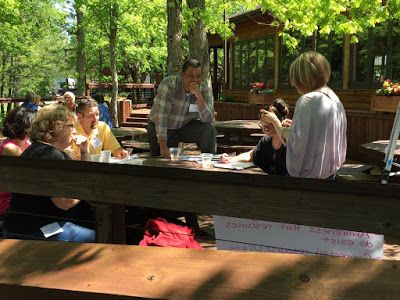 That's why I'm so excited and encouraged by the energy around community development philanthropy and place-focused impact investing. In these uncertain times, communities must be able to invest in themselves. As we continue to define our role in this emerging field, we are looking to the innovators in this area, to learn from them and share their stories. I am excited to develop new tools and services that can help place-focused foundations take stronger leadership and investment roles in the places they care about. Strong institutions, committed community leaders and a robust commitment to community engagement and local investing are the best tools to help communities weather these uncertain times and prosper.  
I wake up every day excited by our work for one simple reason – the communities we serve. When community leaders give their time, talent and treasure to work toward a brighter tomorrow, they deserve partners who respect and match their commitment. Those community leaders – and the places they call home – that's why I do this work.
What drives you to invest in your community? I'd like to hear your stories!
- Deb Markley is Co-Founder and Managing Director of the Center for Rural Entrepreneurship and Senior Vice President of LOCUS Impact Investing. Join the LOCUS mailing list to learn more about local investing for impact.
Our next blog will feature Don Macke's career journey!