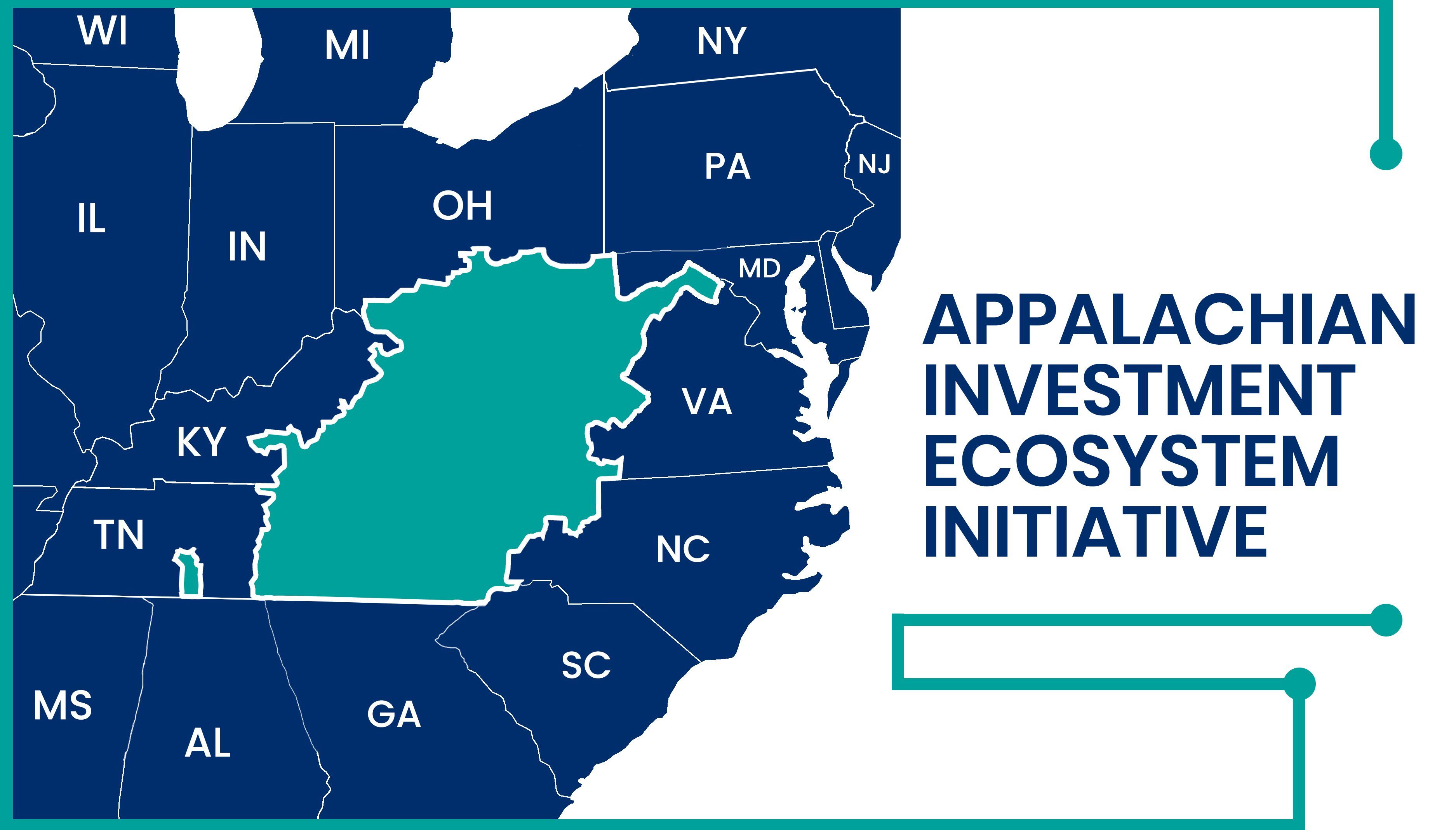 The Appalachian Investment Ecosystem initiative (AIEI) is a multi-year effort (2019-2022) to build on years of locally led work to strengthen and fill gaps in the community investment ecosystem in Central Appalachia. A more effective ecosystem should be able to attract and absorb capital in ways that strengthen regional capacity and advance social and economic opportunity that in turn leads to better health and well-being in the long-term. AIEI grew out of over a year of planning by a group of local, regional, and national stakeholders who continue to serve as an advisory group to the Initiative. This Theory of Change guides our work.
LOCUS is the project lead for the Appalachian Investment Ecosystem Initiative. The Project Team includes Deb Markley and Travis Green, LOCUS; Andrew Crosson, Invest Appalachia; Stephanie Randolph, Cassiopeia Foundation and Invest Appalachia's Board; and Sara Morgan, Fahe. AIEI was supported with funding from the Cassiopeia Foundation, Danville Regional Foundation, Greater Clark Foundation, Robert Wood Johnson Foundation, Thompson Charitable Foundation, UnitedHealthcare, and Wells Fargo.
AIEI, in conjunction with LOCUS Impact Investing, has produced a new document in 2023 titled Report to the Region: Impacts of $1 million on Appalachia's Investment Ecosystem. To access the report, click the button below.
About Our Work
Guided by our Theory of Change – and informed by a working group of practitioners from Central Appalachia – AIEI identified specific implementation grant opportunities to strengthen the investment ecosystem. Each of these grants was focused on addressing capacity constraints in the region's ecosystem and advancing learning about what it takes to strengthen rural investment ecosystems more generally.
1. The Appalachian Ecosystem Journey. Sandra Mikush and Andrew Crosson collaborated to produce the story of the development of Appalachia's investment ecosystem over three phases: Coalescing (pre-2010); Investing in Ourselves (2010-2015); and Collaborating for Scale and Impact (2016-present). They identified seven principles and strategies that contributed to success in Appalachia as lessons for other communities as they develop their own ecosystems. Experience The Appalachian Ecosystem Journey here.
2. Downtown Revitalization Playbook. A team led by Ruthie Caldwell, Vision Granted (Pikeville, KY) worked in collaboration with the Appalachia Funders Network Downtown Revitalization Working Group and the Central Appalachian Network Downtown Revitalization Working Group on this project. This playbook highlights seven projects from around the region, identifies the unique elements that led to their success, and draws out some common learnings (i.e., enabling conditions) for practitioners of rural downtown revitalization. Explore the Playbook here.
3. Invest Appalachia (IA) Collaborative Infrastructure. With AIEI support, Invest Appalachia built tools, guidelines, and processes with community partners (Appalachian Community Capital, Mountain Association, Partner Community Capital) that have been approved by the board and are guiding the work of Invest Appalachia. A Partner Manual provides a guide for partnering with Invest Appalachia, based on this collaborative infrastructure.
4. Appalachia Investment Framer Action Cohort. In order to accelerate community investment in Central Appalachia, we need to build a stronger and more inclusive pipeline of people working across the region who have the skills, tools, and connections needed to 'frame up' investment opportunities. Too often, good ideas at the community level do not move forward because rural regions have a limited number of people with the financial skills and understanding of capital needed to bring promising projects forward for investment. To address this opportunity, Invest Appalachia and LOCUS partnered with the WV Community Development Hub (project manager and AIEI grantee) to launch the pilot Appalachia Investment Framer Action Cohort on September 22, 2021, with a diverse group of 15 participants. Read the launch press release here.
5. Solar Credit Enhancement Exploration. Appalachian Voices received an AIEI grant and is working with the Central Appalachian Network's Clean Energy Working Group to create a credit enhancement tool for solar loans and to explore how such a tool might be applied to other sectors important to the region. In September, Appalachian Voices received a $1.5M POWER grant to launch the Appalachian Solar Finance Fund, with AIEI funding serving as match to secure ARC funding.
6. Increasing Capital Access in Appalachian Communities Using a Coordinated "Integrated Capital" Approach. AIEI is partnering with the Appalachia Funders Network to design and deliver a three-part action learning webinar series for regional funders and other investment ecosystem partners looking to better understand and build relationships to deploy "integrated capital" – the different forms of capital needed to make projects happen in the region. Read a description of the series here.