About the Project
Regional Solutions for Rural and Urban Challenges explores the possibility that regional collaboration and solution-seeking can be an effective way of improving social and economic opportunity and health for all people and places within a region. We asked this question: Under what conditions are regional collaboration and solution-seeking approaches most effective in improving social and economic outcomes?  We saw this as a counterpoint to the prevailing narrative of growing divisions between rural and urban populations along economic, social, cultural, and political lines.
Our Team
---
Objectives
We had two objectives:
To identify and curate examples of policy and practice that demonstrate boundary-crossing, multi-sector solutions to regional challenges that advance opportunity, health, and well-being in a region without leaving behind rural areas and low-income people and people of color.
To use the learning and insights from these examples to inform and inspire action among local, state, and national leadership in the public, private and philanthropic sectors.
This website archives the materials produced from this exploration in the hope that they can be useful to practitioners, policy makers and funders taking regional approaches to address significant social, economic, environmental, health and other challenges that face people and places across the United States.
The project team acknowledges the grant support from the Robert Wood Johnson Foundation that made this research possible. We also thank the many individuals who gave their time to share insights about regional collaboration, recommend case study sites, and organize site visits and present the results of their regional collaborative work. Your participation and contributions are gratefully recognized.
We welcome your feedback and ideas about the materials developed through this project. Please contact Brian Dabson.
---
Using This Site
When citing this work, please use the following: Dabson, B., Okagaki, A., Markley, D., Green, T., Ferguson, K., Danis, C., & Lampkin, T. (2020), Regional Solutions for Rural and Urban Challenges. Richmond, VA: LOCUS Impact Investing, www.locusimpactinvesting.org. The materials on this site may be downloaded and shared to advance policy, research and practice only. Any other uses of the materials requires permission from LOCUS Impact Investing.
This site outlines the entire scope of the Regional Solutions project, and each piece contains practical knowledge for stakeholders across the field. Below, we outline how different users can navigate the site and get the full value of the materials. Users can either click through the site and download PDFs of each piece of the report or click here to download all the materials in one file.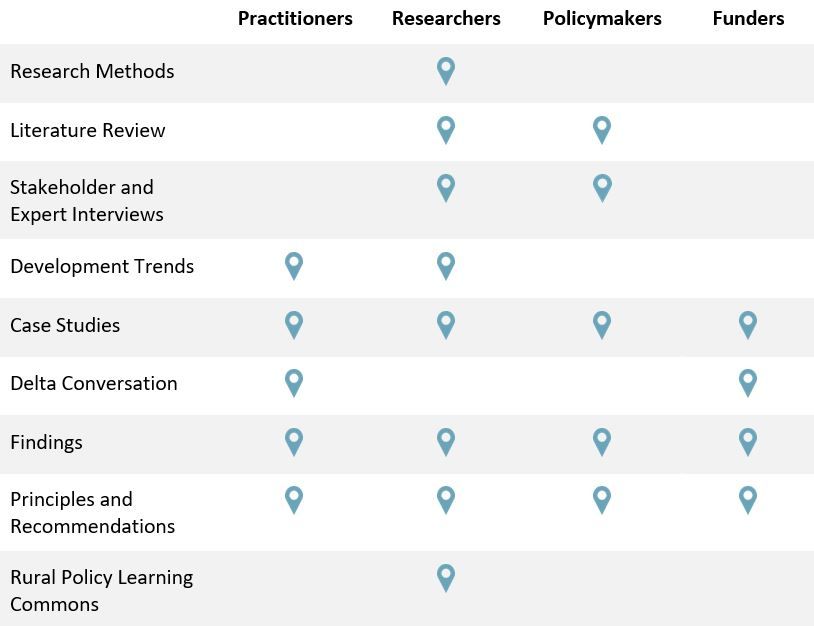 Support for this project was provided by the Robert Wood Johnson Foundation. The views expressed here do not necessarily reflect the views of the Foundation.