Board
Cathy Dolan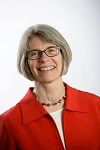 Cathy is an experienced financial services professional with more than 35 years in banking and finance, the most recent being in community and economic development finance.
From 2010 to early 2016, she was Chief Operating Office at Opportunity Finance Network (OFN), the leading national network of Community Development Financial Institutions (CDFIs). While at OFN, she was responsible for business development, executive management, and public representation of OFN. She was instrumental in the development of the US Treasury's CDFI Bond Guarantee Program and was responsible for the first bond issuances in 2014 and 2015.
Cathy joined OFN from Wells Fargo, where she was Director of Community Lending and Investment leading affordable housing finance for the Eastern U.S. and New Markets Tax Credit financing throughout the country. Prior to her time at Wells Fargo, Cathy led the Community Development Finance practice at Wachovia from 2000 to 2008.
Prior to her focus on community and economic development finance, Cathy led Wachovia's Financial Services Investment Banking practice specializing in the insurance and asset management industries. Early in her banking career, she was a Managing Director at Chase Manhattan Bank, spending time in Santiago, Chile and New York in trade finance, corporate lending, and financial restructurings.
In addition to serving on the boards of Locus and VCC, Cathy serves on the board of Enterprise Community Loan Fund Board, a national CDFI headquartered in Columbia, MD and the Cosmopolitan Club of Philadelphia, a gathering place for women to pursue interests in civic, cultural, and artistic endeavors. She also volunteers for organizations serving elder communities.
She holds an M.A. from the Johns Hopkins University School of Advanced International Studies in Washington, DC, and a B.A. from Drake University in Des Moines, IA. She currently lives in the Philadelphia area with her husband, Rob Bierregaard, a noted ornithologist.