Board
Charlie "Chuck" H. Mills, III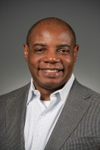 Chuck Mills is founder and CEO of Salera Capital Management, a financial services and business consulting firm. Since its inception in 1998, Salera has successfully provided short term and asset based lending to small businesses in the government contracting industry. In 2007 Mr. Mills co-founded his second firm, Salera Employee Benefits Solutions, a firm focused on providing employee benefits solutions to US federal government contractors. Salera's client list includes some of the largest government contracting firms in the US.
In addition to his successful entrepreneurial pursuits, Mills professional career includes: Bear Stearns bond trader and Vice President within the company's Emerging Markets unit where he was responsible for a $300 million dollar bond portfolio; appointee of Virginia Governor Mark Warner as Agency Director for the Virginia Department of Business Assistance where he had oversight responsibilities for providing economic development solutions to the over 200,000 existing businesses within the Commonwealth of Virginia; and speaker for the US State Department where he provided presentations on small business, economic and strategic development, and public policies on 5 different continents.
Mills is a graduate of the US Naval Academy with a BS in Mathematics. He served nine years in the US Marine Corps as a Cobra helicopter pilot. His tours of duty include the first Iraq conflict and his selection as a "Marine One" helicopter pilot for Presidents George H. W. Bush and William Clinton. He has served on numerous boards, including as the Secretary of the Board of Visitors at George Mason University.