Board
Dixon B. Hanna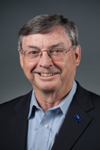 Mr. Hanna was Associate Provost for Academic Planning, Resources and Space in the Office of the University Provost for Virginia Tech. He joined Virginia Tech's faculty in 1972 and has served in a number of roles, including Assistant and Associate Dean for Administration in the College of Architecture and Urban Studies, Executive Director for Finance and Administration for Public Service, and Interim Vice Provost for Outreach and Economic Development.
During his tenure at Virginia Tech, Hanna served on numerous non-profit boards, most notably as a long time member and chair of Community Housing Partners and the United Way of the New River Valley.
Hanna received his Bachelor of Architecture degree with honors from North Carolina State University and his Master's in Urban and Public Affairs from Carnegie-Mellon University.