Board
James W. Harkness, Jr.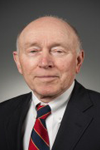 Mr. Harkness is formerly the President and CEO of Shrewsbury State Bank, Shrewsbury, New Jersey where for eight years he managed the $425 million bank. His 33 years in banking has included Chairman and Consultant for Tredegar Trust Company, Richmond, Virginia; Executive Vice President of Investor Services and Capital Markets with Dominion Bankshares (which merged into Wachovia); President & CEO of Dominion Trust Company; Chairman, Investment Banking Services for Dominion; and Executive Vice President of Administrative Services with Dominion Bankshares. Additionally, he held Executive positions with Roanoke College and Wheat First Securities.
Harkness holds a BA from Roanoke College and a JD from American University School of Law.