Board
Sarah Stremlau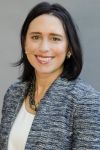 Sarah Stremlau has more than 20 years of experience helping philanthropic, nonprofit, and government leaders more effectively, efficiently, and strategically scale and achieve greater impact. As President of LOCUS Impact Investing, Sarah brings these business skills and experiences to LOCUS and our clients. She oversees the LOCUS team and works with them across all service areas to amplify LOCUS' ability to empower philanthropists to leverage their assets and use innovative financing tools for community economic development. 
Prior to joining LOCUS, Sarah was an Associate Managing Director at Arabella Advisors. In this capacity, she co-led the 100+ member Managed Organizations team, which developed, incubated, launched, and provided the operational infrastructure to hundreds of charitable initiatives. Sarah and her team offered clients a range of philanthropic tools to facilitate their impact, including donor collaboratives, advocacy campaigns, hybrid organizational structures, grant-making initiatives, and impact investments.
Sarah also formerly led the strategy practice at Orr Group, a consulting firm serving the nonprofit sector. As Vice President of Strategy, Sarah developed sustainable organizational and revenue strategies for a broad spectrum of nonprofits. Earlier in her career, Sarah was Senior Research Officer at the National Endowment for the Arts (NEA), where she oversaw the NEA's research portfolio and developed the strategic plan for the Endowment. Additionally, she worked in the Poverty Reduction and Economic Management Group at the World Bank, coordinating a 15-country study on economic mobility.
Sarah holds a BA and MA in Sociology from Stanford University and an MBA from the University of Pennsylvania's Wharton School of Business.