LOCUS Team
Lois Miller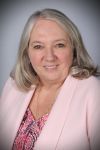 As LOCUS' Asset Servicing Analyst, Lois Miller services, bills, and reports on investments for our Advisory clients.
Before joining the Investment Advisory team, Lois served VCC Bank for five years as Loan Operations Specialist III. She brings close to 30 years of asset management and banking experience to her role at LOCUS, having spent 15 years working in Item Processing for Community First Bank in Arkansas and an additional 13 years working with Girl Scouts of the USA (GSUSA) as both a volunteer and staff member. Each leg of Lois' professional journey has been devoted to institutions with a commitment to community, reflecting her belief in supporting positive local impact.
Outside of work Lois enjoys gardening, photography, AKC competitions with her Golden Retrievers, and spending time with her two daughters.