LOCUS Team
Valerie Lee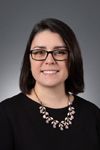 valerie@locusimpactinvesting.org
Valerie Lee is Director of Marketing at Opportunity Virginia, the Commonwealth's Opportunity Zone market and an initiative of Virginia Community Capital and LOCUS Impact Investing. Valerie's responsibilities include communicating Opportunity Virginia's mission and impact, organizing events, and managing day-to-day marketing activities.
Prior to Opportunity Virginia, Valerie's professional marketing and business development experience has included roles with marketing firms, media corporations, and college athletics. Her diverse background has afforded her the ability to develop effective marketing strategies that appeal to audiences of all shapes and sizes.
Valerie has undergraduate degrees in marketing and management from Virginia Tech. She lives in Richmond with her boyfriend and two dogs.