LOCUS Team
Chance Lee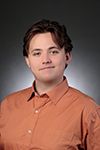 chance@locusimpactinvesting.org
Chance Lee provides the LOCUS team with administrative support and endeavors to keep the organization's Richmond office running smoothly. Coordinating closely with other staff members, Chance works in a communications capacity focusing on LOCUS' growing online presence.
Prior to joining LOCUS, Chance worked in a communications role with the nonprofit group Virginia Foundation for the Humanities. There, he lent VFH his graphic design, writing, and administrative skills, delivering everything from social media images to in-depth articles highlighting the fruits of the organization's fellowship program. Later, Chance operated as the field director for Morgan Goodman, a candidate for the Virginia House of Delegates during the 2017 election cycle. During his time on the campaign trail, Chance coordinated volunteers, planned candidate appearance, and boosted the campaign's social media outreach by producing Facebook video ads highlighting supporters.
Chance earned his BA in Economics and Studio Art from the University of Virginia. As a result, he brings a combination of measured analysis and creativity to any project he sets his mind to.