LOCUS Team
Jay Beekman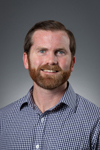 Jay Beekman is Director of Investments at Opportunity Virginia, the Commonwealth's Opportunity Zone market and an initiative of Virginia Community Capital and LOCUS Impact Investing.  In this role, Jay is responsible for engaging with the investor community, assisting with transaction analysis and structuring, and connecting capital sources to impactful Opportunity Zone projects throughout the state of Virginia.
Prior to Opportunity Virginia, Jay was Director of Finance & Strategy at TDBBS and an investment banker at Harris Williams & Co., where he advised public and private companies on mergers, acquisitions, and capital-raising transactions across a range of industries.  He began his career lending to small and middle-market businesses at City National Bank.
Jay has a B.A. in History and Hispanic Studies from Boston College and an M.B.A. from the University of Virginia.  He lives in Richmond with his wife and golden retriever.