LOCUS Team
Linda Brydie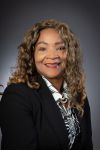 linda@locusimpactinvesting.org
Linda Brydie is Vice President of Asset Management and Servicing at LOCUS. She leads a team that provides asset management and servicing to place-focused philanthropic institutions and impact investing funds, helping them successfully make impact investments.
Before LOCUS and VCC, Linda served as the Development Finance and Cash Management Manager for the District of Columbia Housing Authority Office of Financial Management. She brings a wealth of financial and accounting experience as well as operations management capabilities to ensure the business continues to grow and move forward successfully.
Linda holds a BS from the University of Richmond and an MBA from Virginia Commonwealth University. She is committed to the concept of social responsibility and has dedicated much of her professional career to working with organizations that serve the common good. Linda lives in Richmond with her family and enjoys dancing and singing.